Have you ever thought about the fact that Jesus had to grow up, just like you and I did…do?
I have the privilege of preaching this week from Luke 2:41-52. It is the story of Jesus as a twelve-year-old boy. It's the only story of Jesus as a child that we have in all four Gospels.
It's a pretty funny story, actually; one that is familiar to many parents. A twelve year old ventures off on his own, oblivious to the fact that he's putting his parents through a nightmare, thinking he's been abducted, while he blissfully does what he wants to do. Then, when he's discovered, he's like, "What's your problem?"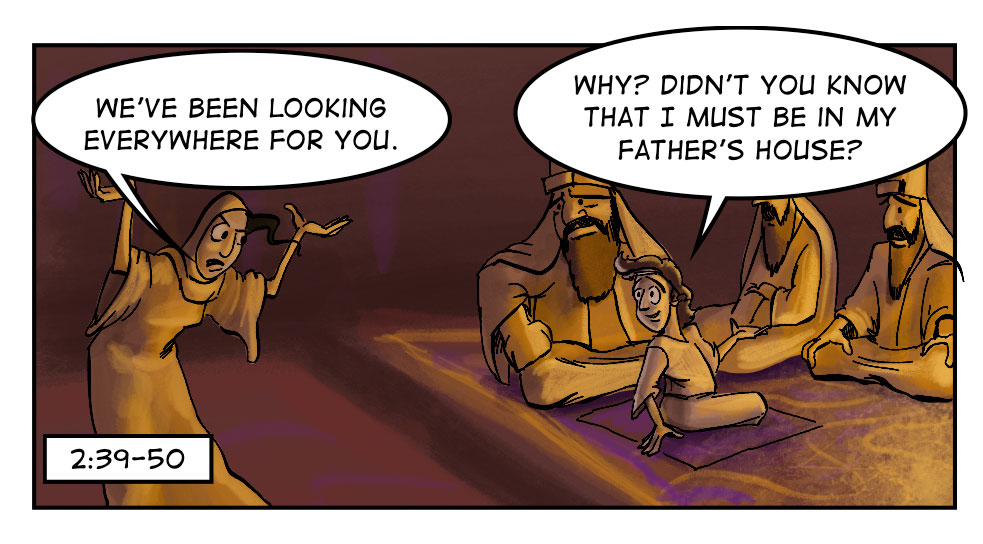 There is a moment of conflict. Mary has one idea for her son. He should be following all her rules. He should have never wandered off. She knows he's special, but perhaps she's just not ready to let him go.
Jesus has another idea. He is twelve. He is about to become an adult in the eyes of his culture. Perhaps he thought this was his time to begin the ministry for which he was sent. "I'm ready coach, put me in the game!"
Neither of them have the full picture. Mary's love for her son is deep. She naturally wants to protect him from harm. Jesus is a boy, trying to become a man. He's got a long way to go before he's ready to bear the cross he's destined to endure.
Finally, both Mary and Jesus realize that they are not in control of the timeline. This is God's story. They both release themselves to the natural process and let the story unfold in God's timing. 
Then comes a most interesting statement: "Jesus increased in wisdom and in years, and in favor with God and humans."

First of all, this is a direct quote from 1 Samuel 2:26. Luke has been drawing comparisons to Hannah and Samuel's story in 1 Samuel throughout the story in Luke so far. Mary's song was a reflection of Hannah's song when God granted her to bear a son. Hannah gave her son, Samuel, over to God at the Tabernacle and the boy "continued to grow both in stature and in favor with the Lord and with the people."
Samuel was the last judge in Israel and the first prophet who anointed the first two kings of Israel. He was a transitional character who ushered in a new age for God's people.
Jesus is a transitional figure as well. He is the last Hebrew prophet. He will be anointed to be the last King of Israel. His Kingdom will end the need for the physical Temple and replace it with the long awaited universal temple of humanity. The Spirit of God will dwell with All people and God's Kingdom will be a light of peace and hope for ALL nations. 
This is the Way.
Yet, Jesus is only twelve. He's not ready. It will be eighteen more years before he steps out into the public light and begins his ministry.
Eighteen years.
Think about when you were twelve and tried to imagine your thirty-year-old self. It seemed like an eternity.
So What?
Here's my take away as I sit on the last day of a horrible year–2020–and anticipate a new year that officially begins tomorrow.
Everything grows.
And,
growth takes time.
Even Jesus, the perfect fusion of God and human, had to take thirty years before he was ready to lead the world into the terribly wonderful journey to the cross.
We have a long way to go. I have a a long way to go. I am fifty-two years old, a pastor, and hold a Ph.D. in Theology and I realize each day how much I don't understand about the spiritual journey.
If each of us could look back at 2020 as a growth experience and look forward to 2021 as an opportunity to learn from our mistakes, then, perhaps, we all might grow in favor with God and each other.
On a really practical level, I invite you to join me in January and February for a six-week dive into the Gospel of Luke. I am very excited to facilitate this Bible Study and I hope you will consider joining us. It will meet on Zoom every Sunday evening at 6:30, starting January 10 and running through February 14.